By Dan Callahan

[The Furies streets on June 24th, 2008. Screencaps from DVDBeaver.]


Anthony Mann is best known today for the remarkable series of westerns he made with James Stewart in the fifties, but he reached his peak with Men in War (1957) and Man of the West (1958), late works which brought his central theme of the violence within man and the demoralizing aftermath of violence to nearly intolerable heights of insight and catharsis. In his famous Stewart films, Mann had a tendency to be a bit too tidy in his storytelling; coming out of one of his mid-period westerns can be a little like exiting a scrupulous, intelligent lecture on ethics and morality, festooned with some of the best landscape photography this side of John Ford. Criterion's surprising, all-stops-out release of Mann's early western The Furies (1950) offers a valuable view of this director nearing the height of his powers, before his gifts had calcified; in many ways, it's his most exciting movie because it's also his most unresolved, opening up a Pandora's box of psychological issues that cannot be contained in any conventional conclusion.

At its core, The Furies is a passionate stand off between a father and a daughter, played by a rip-snorting Walter Huston (in his last role on screen) and a primal Barbara Stanwyck, who dazzlingly alternates between extreme aggression and extreme, childlike vulnerability. As T.C. Jeffords, a wily cattle baron who fancies himself a sort of prairie Napoleon, Huston is in titanic grand old man mold (if you want to see the real genesis of Daniel Day-Lewis' John Huston-aping Daniel Plainview, look no further). His beady eyes twinkling, T.C. continually asks Vance to scratch his "sixth lumbar vertebrae," and when you see the outrageously knowing way that Stanwyck scratches her Daddy's itches, you'll wonder how Mann snuck this Incest Out West epic past the censors.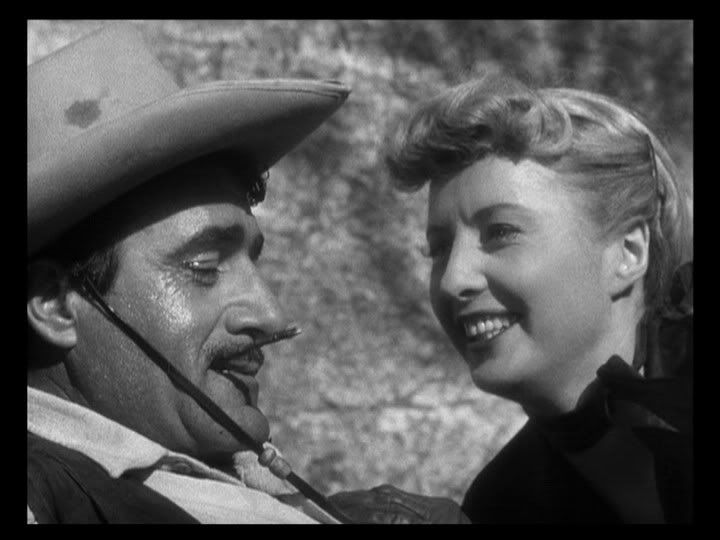 The Furies has several tributary plots, the most affecting of which is Vance's platonic love affair with her best friend Juan (Gilbert Roland), a Mexican on the verge of being burned off his own land by her father. Stanwyck develops far more heat and feeling with Roland than with her nominal leading man, Wendell Corey, but the real face-off mid-way through the film is between Vance and a self-described "adventuress" played by the formidable Judith Anderson. In the theater, Anderson was the greatest modern Medea and had cornered the market on vengeance, so it's quite appropriate when this vengeance is visited upon her in the film's most shocking scene; I won't spoil it for you, but let's just say that Stanwyck is the first, best and ultimate Scissors Sister.

It would take a boatload of Freudian psychoanalysts to unpack all the psychosexual baggage on display in The Furies, all amplified by one of Franz Waxman's stormiest scores; most of the film is so alarming, and Stanwyck's Vance is so dedicatedly perverse, that it's easy to shake off the last twenty minutes or so, which serve as a kind of valedictory for Huston the actor while smoothing out the rough edges of his crude tycoon character. Fascinating as Stanwyck and Huston are, though, in the end it's Anderson who haunts the film. In her last scene, this former tigress rises to a level of regret that's practically Shakespearian in its pathos and depth, matching Mann's obsessive attempts to bring the form of classical tragedy to the western. Her suffering is echoed in the famous scene in Mann's The Man from Laramie (1955) where James Stewart's hand gets shot at point blank range, and the sickening scene in Man of the West where Julie London is forced to strip. Mann was always after the root of our worst impulses, and in The Furies, a very messy, provoking film, he came a little closer to those roots than he ever would again, even in the justly lauded movies of his maturity.



***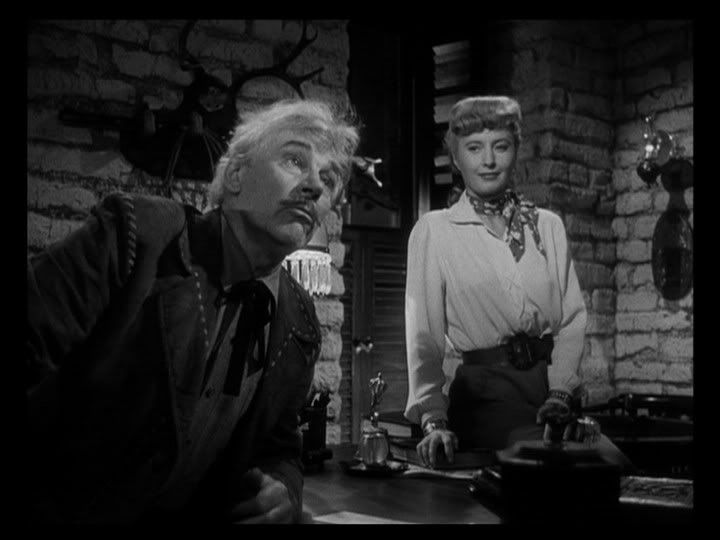 Image/Sound/Extras: There's been a meticulous clean-up of the image, especially in the many outdoor scenes played in soft, nearly out of focus grey half-light, and the sound is good, though there's a bit of hiss on the track towards the end. There's a brief interview with Mann himself, a touching interview with his daughter Nina, who emphasizes how personal his movies were, an excellent commentary track by Jim Kitses, and Niven Busch's original novel, a lurid blueprint for the film where Juan is more clearly Vance's lover. Best of all, there's a superb essay by Robin Wood on Mann's westerns and The Furies in particular. All in all, this is one of the essential DVD releases of the year.
_________________________________________________
House contributor Dan Callahan's writing has appeared in Slant Magazine, Bright Lights Film Journal and Senses of Cinema, among other publications.